Bathroom Installation Service
Bathroom installation can be a complex task. Therefore, it requires experienced and highly skilled installers to ensure the job is done right. We do more than just design your new luxury bathroom; we also supply and install. Unlike other bathroom retailers, we choose not to just recommend third party installers. Instead, we have our own team of installation experts.
Firstly, we conduct a site survey to fully understand your bathroom space. We will note important information such as dimensions, pipe positions etc. Alternatively, we can use existing architectural drawings. Next, we invite you for a consultation to discuss all your design ideas.
Once we understand your creative vision, we get started on creating the initial design. Our bathroom designers will create realistic interpretations of the proposed design using mood boards, 3D Virtual Worlds Images, elevations and CAD drawings. Then we present our design, apply any feedback or design changes and create your final design for sign off.
Bathroom Installation Process
Once the bathroom design has been completed and all products are placed on order, delivery and installation are then arranged. Our installers will start the project at an agreed time. We pride ourselves on making sure your bathroom fitting is convenient and hassle-free as possible. Next, we start the removal process and prepare the bathroom for installation. A protective barrier will be set up around your bathroom to keep the rest of your property clean and unaffected.
Our design consultants work alongside our installers, to ensure the bathroom installation process is running smoothly. We provide an itinerary of jobs to be completed each day so you know that everything is progressing in a timely fashion, plus regular photos that document the process. We conduct several site visits during the installation process, to make sure everything meets our high standards.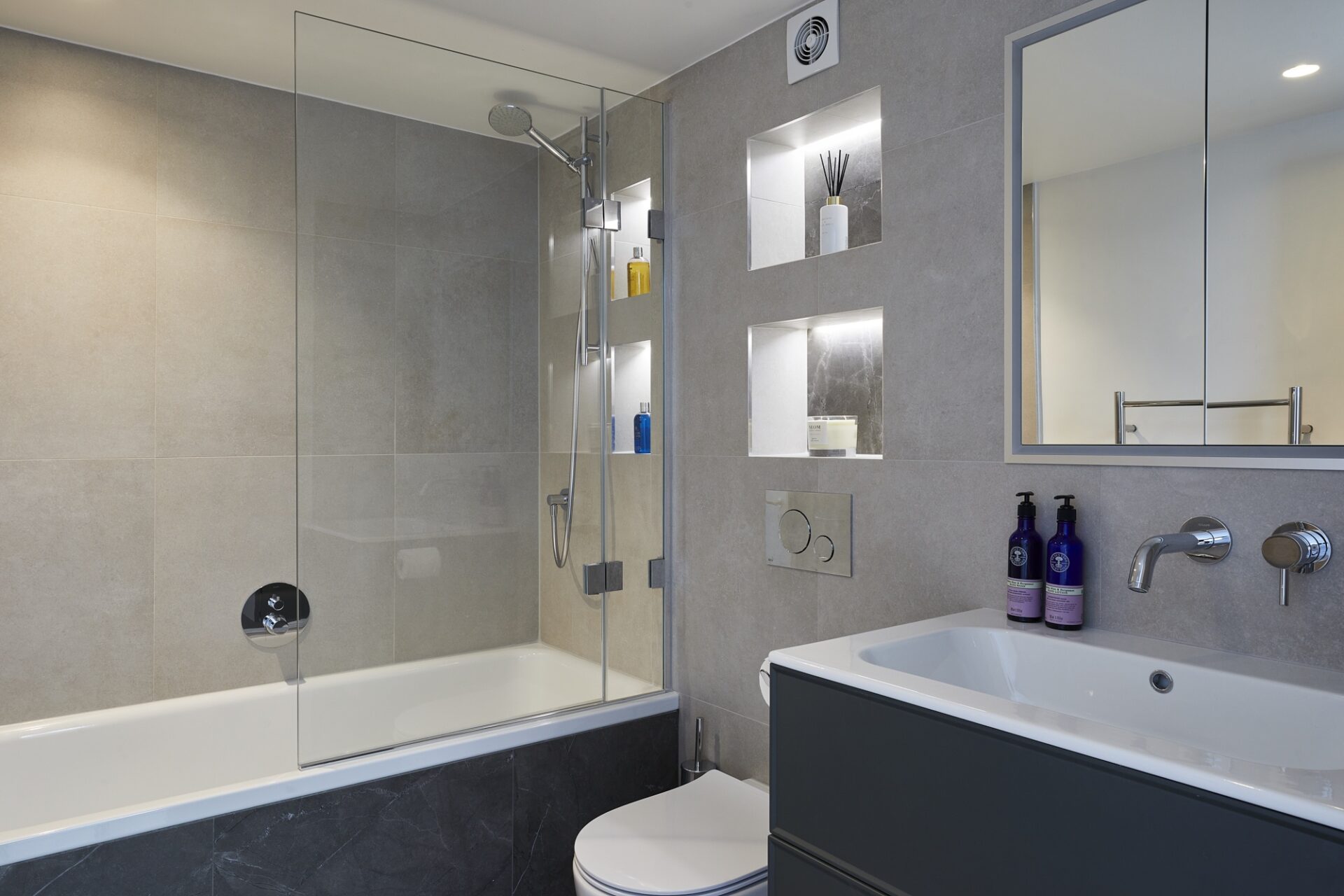 When the bathroom installation is complete, our design consultant will perform a comprehensive survey on the project. We have extremely high standards and like to ensure those standards have been met. Then, we will confirm that you're happy with your new luxury bathroom. The project will then be signed off as complete.
Kallums Bathrooms take pride in everything we do. Every bathroom we design and install is done with utmost care and attention to detail. Which is why we love to arrange photography for all our completed projects. With your permission, we would be thrilled to photograph your new bespoke bathroom to be featured on our case study page.
Our design service provides fully qualified bathroom designers with years of experience, who will work with you to help you create the luxury bathroom you've always wanted.
To arrange a consultation or if you have an enquiry, please complete our contact form. Alternatively, you can call us on 020 3620 2076 or email enquiries@kallumsbathrooms.co.uk. 
Our showroom is the best source of inspiration for bathroom ideas. To be fully inspired, visit our bathroom showroom. Our team are on hand to assist with your luxury bathroom project.